The huge choice flowers and gifts, fast delivery around Berdyansk
Send flower arrangements anywhere in Ukraine
The most beautiful, most stylish bouquets and compositions will be created by florists-designers of our shop. The freshest local and imported flowers of the best sorts, their wide selection are available here. Bouquets will be quickly delivered by our courier service.
Roses and chrysanthemums, magnificent alstromeriya and majestic orchids, improbable beauty of eustomas and a solar gerberas, placed into a bouquet or basket arrangement by professional designer-florist turn into irresistible works of art and cause feeling of sincere admiration. There is a reason to add an original gift to flowers. We always offer the widest choice of the most various, sometimes unexpected and unusual gifts.
The more unusual your choice, the higher delight and amazement of the delivery order! We delivered thousands of bouquets and gifts in Berdyansk and around Ukraine and we definitely know what we are saying here! For example, the live brightly painted tropical butterfly that have wings up to 17 centimeters make a great delight! Sets of delicacies, sweets, elite tea, coffee please receivers always. We could see it incredible number of times during in almost 20 years that we work in flower delivery business in Berdyansk!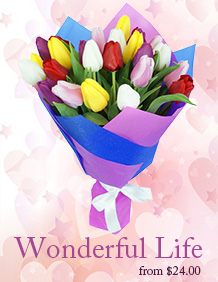 Елена

Подошли к заказу внимательно и креативно. Подобрали шикарные цветы и большую корзину фруктов на...

David Dollochin

Thank You ))) For the wonderful, kind and friendly service!!! The Orchid is very beautiful, and I appreciate all your help )) Kind regards, David...

Ercüment Demır, Turkey

Hi I am so happy for your work And of the gift we are together again Thank you and thank you for your labor Natalia ...