Dovzhansk flower shop delivers your gifts around the city
What a woman is dreaming about? This question is simple and difficult at the same time. Men know that all women loves attention, unexpected surprises, sincerity and manifestation of love even if a man is far away. If you have to greet a girl or a woman who is far away from you, say, in Dolzhansk, and you are lost in the assumptions of what to present .... send a beautiful bouquet of flowers! It is absolutely simple to place such order for Dolzhansk through our flower shop in Dolzhansk of Lugansk region. Despite remoteness from the capitals and a big cities, florists of our local flower shop in Dolzhansk are surprisingly professional in creation of bouquets and flower arrangement. They have a great taste, rich imagination, knowledge of flowers, skills in technology of making beautiful flower arrangements. The choice of flowers is also very big in Dolzhansk. Roses and chrysanthemums, lilies and gerberas, orchids and an alstromeriya - it is fat nolt a full list of flowers which are available in our shop in Dolzhansk almost all the year round. It's really very easy to send a bouquet to your darlings who is far from you in Dolzhansk. If you decide to do it, you first will need to select bouquet or flower arrangement at our 7roses flower shop, then to add any gift (you can choose it on the pages "Gifts", "Sweets", "Products") and complete the order. After the on-line payment gets through our florists will process the order. After delivery time is coordinated with the receiver our couriers deliver your gifts to the door of your receiver in Dolzhansk. We could do it for the nearvy villages as well. It's really not too hard to givdeme a joy, to surprise someone who is far away of you. Send them a pleasure more often. Remember, that some one there in Dolzhansk waits for the Manifestation of your love!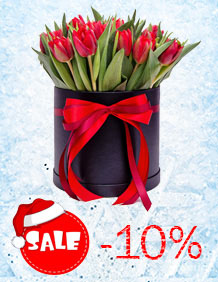 Jordi Rodríguez

I'm really happy to have requested from your shop, thank you very much :) I also appreciate how nice and polite customer...

Bashar

It was my pleasure to order from your shop, I'm very satisfied about the service , communicating and Quality really I...

Steven

On both occasions I received excellent customer service and attention to detail.