Amazing floral arrangements and assorted gifts in Krykhivtsi flower shop
Flower shop in Krychivtsi offers a wide choice of stylish bouquets of a fresh flowers, flower arrangements and various gifts delivery around Krychivtsi, the Ivano-Frankivsk region. Fresh flowers turn on into a beautiful stylish bouquets, gifts are arranging with tapes, bows, flowers... Your family or friends would be definitely happy to receive a set of high-quality delicasies. Most likely your Krychivtsis family can't afford buying such things themselves because of a high cost. Send them a beautiful bouquet and, for example, a set of elite tea... or coffee... You can also invite them to visit a restaurant on your expense in Krychivtsi, having presented the Restaurant Gift Certificate. Look through our catalog and you will definitely find something interesting for yourself and your family! Please the family, or your darling in Krychivtsi. Also we provide an urgent deliveries of mourning bouquets, flower compositions to a funeral.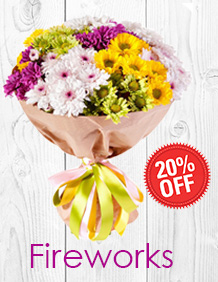 Sankar, United Kingdom

Excellent, many thanks and I really appreciate your fantastic service. Well done!

Валентин, Украина

Отличная компания, отличный сервис. Особая благодарность, -- Наталье.

Rahul from India

I must confess those pictures were a real surprise and the smile on her face is priceless. I will surely be delighted...