Find a colorful selection of premium flowers in Nyzhnya Syrovatka
A beautiful bouquet, flower arrangement, or a fashionable now composition of flowers and incomparable macarons, flowers and berries, flowers and candies can be ordered in our flower salon in Nizhnyaya Syrovatka of the Sumy region. Everything that you send to your family in Nizhnyaya Syrovatka, will be delivered there in time. We will be constantly in touch with you. We just would ask you to order flowers and gifts for delivery in Nizhnyaya Syrovatka beforehand, say, in 2-3 days prior to the delivery date. It is also very important that you have specified an working phone number of the recipient. To be able to present all your items in person, we have to call and ask about the most convenient time for a meeting with courier the courier for the "surprise" delivery.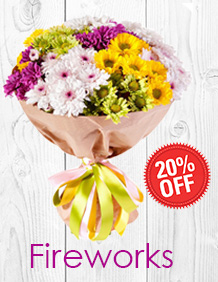 Francis, Doha, Qatar

Yes, thank you I'm very happy with the arrangement and the communication from you. Thanks for keeping me updated. She was...

Michael, UK

Thank you so much Great service Cheers

Sergii, Germany

Здравствуйте, Наталья!! Спасибо большое за отчёт и оперативное выполнение...