Flower bouquets and gifts delivery from a local florist in Oleshky
Aleshki inhabitants, as well as most of southerners, love bright and solar things. We always have the huge choice of fresh flowers: both import, and local, seasonal in the Aleshki flower store. Certainly, the flowers preferences are individual and depend on many factors which are hard for describing. Some love pastel, quiet tones, others prefer a palette of the brightest paints. Aleshki is a southern town that if you send a bouquet of mixed flowers in the contrast colors, i will be exactly that they love! White, red, pink and surely bright yellow flowers should be presented at the bouquet for Aleshki. Think also of a nice present which could be delivered in Aleshki alone with a bouquet of flowers. If you send flowers to the young girl, add an unusual sweets. For example, the big chocolate bear holding a heart with the word "Love" at it. You can find it at the "Chocolates" page of the "Sweets" list. Its weight is a half kilo or more, than 2 pounds. Girls and women in Aleshki will be definitely happy to receive a nice perfume. If you want to congratulate the elderly person, send a home plant to Aleshki. Every one will be delighted by a basket of delicacies! Make your choice, and we will deliver all your flowers and gifts in Aleshki!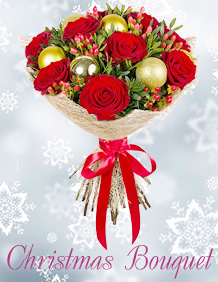 Yasser Abu Hishmeh

5 stars

Igor Meda, USA

Спасибо вам большое за предоставленое удовольствие! Вы дарите людям...

Liyousa, Canada

I am very happy with the service. The flowers, sweets and the gift are the same as in the picture. Very professional staff....