Квіти, букети, продуктові набори, феєричні подарунки від нашого салону з доставкою по Ровеньки
Our florists in Rovenky Lugansk region will do their best for creating the most beautifu bouquet of the freshest flowers. 18 years of successfully running this business confirms our highest responsibility. We follow the flower fashion and always know about a new trends, we buy the most modern florist supplies for bouquets packing. Several months ago, for example, the mixed compositions of flowers and various sweets became very popular here. We picked up this idea immediately and have expanded the range and a variety of the offered compositions. They can be found in the "Sweets" section of our Catalogs. Look through our catalog, as there is no way to describe everything we offer there in this short description. Make your choice and order!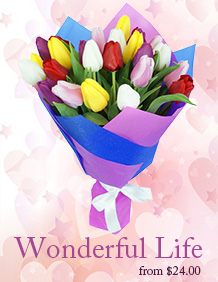 7roses

Thank you for your outstanding service!)) I will place order with you for International Women's Day soon (which is not tradition...

7roses

Thank you very much Yulia!!! Very greatly appreciated!!! Have a terrific week!! Very best regards, Ben

7roses

To Yulia....many thanks, delivery and photos, exceeded all expectations...Larisa very pleased. Thank all responsible for...