Bouquets and flower arrangements delivery to Shyshaky
Roses, chrysanthemums, gerberas, magnificent eustoma, spring tulips, summer camomiles and gladioluses, autumn asters and dahlias.... These flowers and a lot more other flowers are available in our Shishaki flower shop. Magnificent bouquets, original flower compositions, the huge choice of gifts for your family in Shishaki. Look through our catalogs and the wish to please your family in Shishaki will grow with each next page. Send a stylish bouquet or an original gift to Shishaki. First, your family will be surprised of the fact of flower delivery itself as it is absolutely unusual thing for Shishaki. And secondly.... such gifts they definitely have never seen there in Shishaki! The point is that we order some original products individually at factories that are located around Ukraine. We could mention as a samples the chocolate bear with a heart, it's weight is... a half of kilo! Extra large soft toys (bears, hares, pandas) which can be up to 180 and even 200 cm per your wish. Filling such orders as you realize, requires extra time. 2-3 working days are normally enough for us to organize producing and delivery of such an individual products to Shishaki. Shishaki women like to receive as a gifts home pants in a pots. It is understandable since such live gifts will please them for many years. Needless to say, that it is possible if they are taken a good care of. Send a joy to your relatives in Shishaki as often as you can!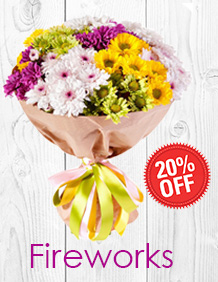 Billy, USA

Thank You Natalia!!! Everything was perfect and I'm glad the perfume is timely to get to her!! She was just commenting about how much she loves perfumes so it will be the pe...

Douglas, Palo Alto, USA

Dear Natalia: I just spoke with Yuliya (the lady to whom you delivered the flowers) She loved her gifts! And based on the pictures, it seems the flowers are very nice. Tha...

Victoria, USA

Спасибо вам огромное за вашу работу!!!! Все супер!!! ...