Choose from our premium collection of quality flowers in Yenakiyevo
People in Yenakiyeve Donetsk region wait for pleasant surprises with the same desire as people of any other place of Ukraine do. The reasons to arrange such a surprises for the family in Yenakiyeve are more, than enough. The special expectations for something nice appear before a birthday. Young girls rely of course on St. Valentine's Day... and all women - for March 8. And everyone has also birthday... Generally, if you love and appreciate your family in Primorsk, if you would like to do something nice for them.... even without reason - just order bouquet delivery! It is always great joy for any person and a greate pleasure to know that you are loved and cared about. Our florists create an unique bouquets of flowers, couriers deliver them directly to the doors of the receivers. By the way, it is very simple to place order for Enakievo delivery at our website. We accept payment through the protected payment platforms with the VISA and MASTER cards.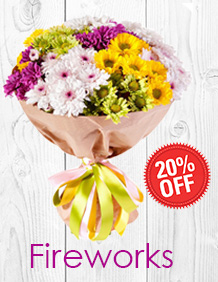 Sankar, United Kingdom

Excellent, many thanks and I really appreciate your fantastic service. Well done!

Валентин, Украина

Отличная компания, отличный сервис. Особая благодарность, -- Наталье.

Rahul from India

I must confess those pictures were a real surprise and the smile on her face is priceless. I will surely be delighted...