Flowers and gifts collection in our Gorlovka flower shop
At this globalization era people travel around the World, some stay at other countries. Many people from Gorlovka left worldwide looking for jobs and better lives. Their mothers, fathers and aunts, grandfathers, uncles are left at a small towns like Gorlovka.... Is there any way to greet them to their Birthdays, New Years, Christmas or Easter? Is there a way to brighten their days, to place smiles at their faces, to show your love and warmth? Yes, there is a way to do it. Order flowers flowers delivery to Gorlovka! Flowers will pass your love and warmth to your dear people... Choose a bouquet of flowers, flower composition, or a box arrangement at our Gorlovka flower salon and we'll deliver it to the door of your family or friends there. You can order a bouquet of roses, it is also possible to create a beautiful bouquet of a mixed flowers, local Gorlovka florist will carefully pick a right colors so that your darlings will be definitely impressed! Gorlovka flower shop has all attributes that are necessary for creation a beautiful bouquets and flower arrangements! Your family will be pleased by all means also if you add a nice gift to a flower bouquet. Say, a box of chocolates, a soft toy, a champagne, or a gift set of fruits, delicacies, natural cosmetics can be ordered for delivery in Gorlovka. We have a great choice of a different gifts, and couriers will deliver them to the doors of your relatives in the city of Gorlovka of the Donetsk region. All flowers and gifts can be easy ordered online and payment also can be provided easy with VISA or Master cards. Select and order flowers and gifts with delivery around Gorlovka in our flower shop 7roses.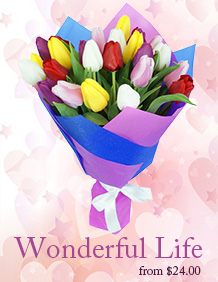 Елена

Подошли к заказу внимательно и креативно. Подобрали шикарные цветы и большую корзину фруктов на...

David Dollochin

Thank You ))) For the wonderful, kind and friendly service!!! The Orchid is very beautiful, and I appreciate all your help )) Kind regards, David...

Ercüment Demır, Turkey

Hi I am so happy for your work And of the gift we are together again Thank you and thank you for your labor Natalia ...