Beautiful flower arrangements and various gifts in Konstantinovka
Life is quite slow at a small towns in Ukraine. It is also poor for any big special events. Konstantinovka is one of such small towns. People there live a simple and modest lives, they work a lot, and entertainments, bright events take place there really very rarely. They go to restaurants occasionally and for a significant events onlt, suc as wedding, anniversary, birthday. Though these actions they still prefer to organize at their homes. It's a much more cheap way. Visit of our courier with flowers and gifts in Konstantinovka is like an event of a Universal scale))). For many years of work in the sphere of flower and gifts delivery all around Ukraine, we could see plenty of times a great impression, mistrust first (is it really for me?!) and delight of Konstantinovka inhabitants on a visit of our courier with gifts and flowers. We actually can deliver anything the customer wishes in Konstantinovka. There is a huge choice of the most beautiful bouquets, created of various flowers: roses, alstromeriya, lilies, gerberas, chrysanthemums.... On our website 7roses.com. They remind us that, say, summer has come! Tulips, peonies, sunflowers, dahlias, asters and many others flowers are available at different seasons in Konstantinovka. Specific seasonal flowers remind that time is passing inevitably and summer came to Konstantinovka again.... then fall... and next spring is not far away! Not only flower compositions can be ordered for delivery in Konstantinovka. Recipients especially appreciate gifts that can be ordered and then delivered alone with flowers. Look through our catalogs and you'll see that the choice of bouquets, flower arrangements, gifts in our Konstantinovka flower shop is the biggest in this town! You surely will choose something for your relatives here!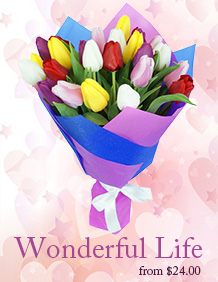 7roses

Thank you for your outstanding service!)) I will place order with you for International Women's Day soon (which is not tradition...

7roses

Thank you very much Yulia!!! Very greatly appreciated!!! Have a terrific week!! Very best regards, Ben

7roses

To Yulia....many thanks, delivery and photos, exceeded all expectations...Larisa very pleased. Thank all responsible for...