We deliver your gifts and/or a bouquet to Nova Dolyna from our salon in Odessa
All human life is accompanied by flowers. New baby borns and mother is met with flowers. Christening, birthdays, school final, wedding, the own babies birth... Holidays - New year, Christmas, St. Valentine's Day, on March 8, Easter.... People in Novaya Dolina are absolutely same as they are at the other settlements of Ukraine. It's easy to send a beautiful, stylish bouquet to Novaya Dolina through our flowers and gifts delivery service. Look through the selection of bouquets at our Catalogs. All of them are so good, It's even hard to m,ake a choice! It would be a good idea to add a gift to a bouquet of flowers. If you send order to Novaya Dolina for a birthday, then the bunch of multi-colored balloons would be just right thing to send! They are very inexpensive, but lightens the spirit perfectly. A good champagne, a basket of delicacies could be sent to Novaya Dolina for a birthday party or for any holiday.... The choice of sweets is really the best at our store. Take a look! Our flower shop fulfills also urgent mourning orders in Novaya Dolina.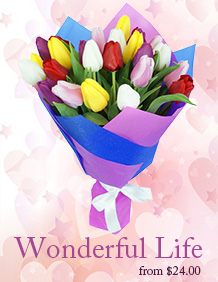 Елена

Подошли к заказу внимательно и креативно. Подобрали шикарные цветы и большую корзину фруктов на...

David Dollochin

Thank You ))) For the wonderful, kind and friendly service!!! The Orchid is very beautiful, and I appreciate all your help )) Kind regards, David...

Ercüment Demır, Turkey

Hi I am so happy for your work And of the gift we are together again Thank you and thank you for your labor Natalia ...