Order flowers and gifts online from our florist in Pisochyn
Fresh flowers are always available in our flower salon in Pesochin. Professional florists create a beautiful, modern bouquets and flower compositions. Roses and chrysanthemums, carnations and gerberas, the most various seasonal flowers.... Our florists are always interested in novelties of flower fashion and create bouquets and flower arrangements according to its requirement. For example, eco-friendly floristic materials are especially popular during the last months: craft paper for packing bouquets, cardboard hat boxes for the arrangements, etc. All these materials are using in our salon. Our couriers deliver your flowers directly to doors of your relatives to Pesochin. Take a look at the magnificent choice of gifts which we offer as additions to flowers. You will find a gift for the receiver of any age, any taste there, Including a child, a man, a young girl and an elderly woman. There are no doubts that any of them will be incredibly pleasant for your family to Pesochin.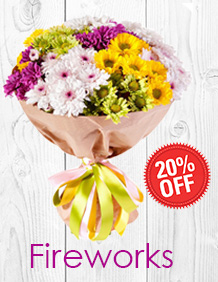 Sankar, United Kingdom

Excellent, many thanks and I really appreciate your fantastic service. Well done!

Валентин, Украина

Отличная компания, отличный сервис. Особая благодарность, -- Наталье.

Rahul from India

I must confess those pictures were a real surprise and the smile on her face is priceless. I will surely be delighted...