The flower salon of Putyvl delivers a beautiful, creative bouquets and stylish gifts
The most improbable, most stylish, most fashionable bouquets and compositions are available in our flower salon in Putivl. Professional florists follow the flower fashion and try to be always ahead. For example, the most relevant in floristics is just monobouquets in creative and unusual packings. You can see such bouquets in our Putivl flower salon catalog, on the pages "Baskets and Boxes". You can see arrangement in hat boxes there. That is what is very popular now in Putivl. Very creatively, unusually and stylish bouquets look in... a high teapots, or specially designed buckets. Such packings give you the feeling of proximity to the nature, the steppe, village with its pair milk. The monobouquet is the bouquet consisting of flowers of one sort. Normally people send flwoer delivery order to Putivl for holidays, such as St. Valentine's Day, Women's Day on March 8, a birthday. However flower deliver without any reason is most unexpected for the receiver and thus it is the most pleasant, admired and it definiltely refreshes true feelings. Our flower salon in Putivl works 7 days a week. The cost of flowers and gifts delivery around Putivl doesn't depend on day, it is same at the week end as it is during a week. Add an interesting gift to you order. You will find a huge choice of such gifts in our catalogs. We can deliver almost everything that you see there within an hour or two after the roder is paid. Though there are such gifts which are made in one or two cities of Ukraine only. So, they have to be sent to the order with by post. Therefore, please, attentively read descriptions of our gifts and place the order beforehand. In this case it will be prepared without haste, so your family in Putivl will get the service of the superior quality!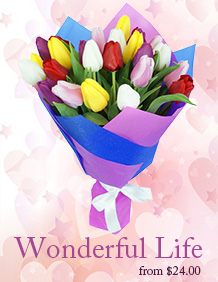 7roses

Thank you for your outstanding service!)) I will place order with you for International Women's Day soon (which is not tradition...

7roses

Thank you very much Yulia!!! Very greatly appreciated!!! Have a terrific week!! Very best regards, Ben

7roses

To Yulia....many thanks, delivery and photos, exceeded all expectations...Larisa very pleased. Thank all responsible for...