Flowers, sets of delicacies, sweets, the most various gifts delivery in Starokozache.
Every one dreams about an unexpected and nice surprises. There are some special days during a year that we could expect something like that: birthdays, New year, Christmas, Easter.... But even during the periods between these Holiday there are a ways to give a minutes of joy to your dear people in Starokazachye. Just send them a nice bouquet of flowers, or a gift. However both would be even better ))! Of cousre, being a part of the family, you know the taste of your Mom, Dad, or Granny... as well as of your girlfriend who is in Starokazachye now. We have tried to present the most various bouquets, flower compositions, arrangements of flowers and sweets at the boxes, flowers and berries, home plants, etc., so that everyone could choose something that would please his/her dear people in Starokazachye. The same words could be told about the choice of gifts in our Catalogs for Starokazachye. You'll find a huge choice here. You'll find everything for the person of any age and a sex: аrom a flower vase, or balloons, to the Gift Certificate for visiting a SPA salon, or restaurant. From a box of chocolates to a live tropical butterfly.... We won't list everything in this description as it is just impossible. You're welcome o take a look at our catalogs and to make a choice! We then collect all your gifts and deliver them to the door of your family or friends in Starokazachye.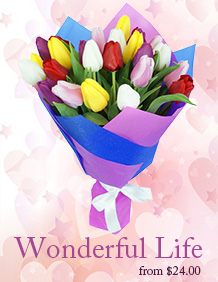 Елена

Подошли к заказу внимательно и креативно. Подобрали шикарные цветы и большую корзину фруктов на...

David Dollochin

Thank You ))) For the wonderful, kind and friendly service!!! The Orchid is very beautiful, and I appreciate all your help )) Kind regards, David...

Ercüment Demır, Turkey

Hi I am so happy for your work And of the gift we are together again Thank you and thank you for your labor Natalia ...