Queen flowers and King gifts choice in Bucha. Fast delivery
Our Bucha flower shop delivers beautiful bouquets of flowers, plants, the most various gifts, fresh flowers, bouquets, flower compositions, flowers in boxes. We deliver around Bucha. Our flower shop couriers deliver flowers and gifts to the door in Bucha and Kiev area. It would be such a pleasure for your darling or a family to receive your gifts in Bucha even if you are far away. Please the family with a bouquet, fresh flowers, roses and gerberas. carnations or an arrangement of a seasonal flowers. t's quite easy to do having ordered delivery at our Bucha flower shop 7roses.com. We deliver any kinds gifts to your family, for example, original perfume, a Teddy bear or any other soft toy, a set of sweets, chocolate, as well as the most original and unexpected gifts, such as live tropical butterflies, sweet bouquets and many other original gifts around Bucha and Kiev region. It will be magnificent to receive a bouquet, a flowers basket, super fashionable and impressive hat box flower arrangement and many other things in Bucha.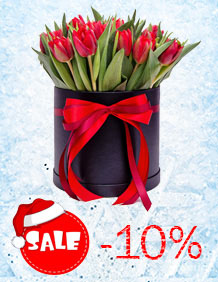 Ercüment Demır, Turkey

Hi I am so happy for your work And of the gift we are together again Thank you and thank you for your labor Natalia ...

Suresh Mendiratta, India

Greetings, Thanks and I really appreciate the way you communicate about the delivery and report and helped me for everything . This was the best service i ever got for any onl...

Veronika Silina

Добрый вечер! Спасибо Вам огромное за такое отзывчивое отношение и за потраченное время! Наша мамa...