Order flowers and gifts, send a joy to your family or friends in Gorodok
It isn't difficult to send greetings someone at Gorodok of the Khmelnytsky region, even if you are many hundreds, or even thousands kilometers away of Gorodok. Our flower shop will fulfill such a flower delivery order. Our Gorodok flower shop works successfully for many years. We sell bouquets and flower compositions and also we fulfill orders for flowers delivery around Gorodok. Fresh flowers are available at our flower shop through the year. The roses are the most popular flowers everywhere including Gorodok. Red color roses are most loved by our customers. There is nothing surprising actually as a red rose is a symbol of love of a man to a woman. Sons send red roses to mothers, fathers, foremr students send them to there beloved teachers, etc. who remained in Gorodok. We create a nice bouquets and flower arrangements of a mixed flowers. florissts thinly pick up flowers for the bouquets by their types and a color: eustoma, roses, lilies, orchids, cloves, gerberas.... In the summer bouquets with a sunflowers are popular in Gorodok as a symbol of hot and fertile summer, gladioluses are sending in Gorodok a bit later, by August. In September dahlias and asters blossom... It is possible to present a bouquet of tulips, peonies in the spring. In our flower shop of Gorodok there is also a wide choice of gifts. Place order and we'll deliver flowers and gifts to your relatives in Gorodok of the Khmelnytsky region. It is rather simple send such flowers and gifts to Gorodok, having used our delivery service. We just would ask you to place order whenever possible in advance, at least in 2-3 days prior to delivery date in Gorodok.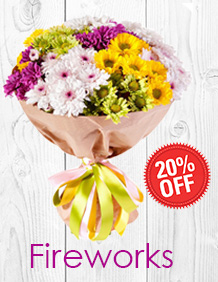 Sankar, United Kingdom

Excellent, many thanks and I really appreciate your fantastic service. Well done!

Валентин, Украина

Отличная компания, отличный сервис. Особая благодарность, -- Наталье.

Rahul from India

I must confess those pictures were a real surprise and the smile on her face is priceless. I will surely be delighted...