Select flowers and gifts for your Darlings in Kagarlyk
Florists of Kagarlyk flower shop create a beautiful bouquets and flower arrangements that can easy compete with what Kiev or Odessa florists do! Fresh flowers are always available in Kagarlyk flowers shop and the choice of flowers is always quite big. You can order a bouquet of roses, bouquet of a mixed flowers, or composition in a basket. In this case flowers will be put into a special oasis which will help them to remain fresh for a long time. The excellent idea to surprise and give pleasure to your family in Kagarlyk would be to oprder flowers with seets. We have a great choice of them in Kagarlyk: candies, air zephyr, chocolate, macarons, chocolate cream and others. Look through our catalog and you'll see it. There in Kagarlyk is also the possibility to order an individual sweets. What is it? Culinary professionals could bake a big cake, and we can write several words of greeting on your behalf. Ordering of chocolate figures would be the great idea to surprise your relatives. For example, big chocolate heart up to 500 grams! There are also a large chocolate Teddy bears... Just, please, always pay attention to the description of what you order for delivery in Kagarlyk. The matter is that many items should be ordered at the other cities of Ukraine and we have to send them to Kagarlyk for delivery to your family there. Needless to say, that some extra time time is required to complete collection of the items for your order. 2-3 business days normally is enough. However nevertheless it is far more reasonable to order gifts for your family in Kagarlyk 3-5 days in advance anyway. By the way, the cost of the order doesn't depend on all the manipulations, time and efforts that we take for collecting all gifts in Kagarlyk, and sending them from other cities. Please your relatives, show them your true love! Order inexpensive flowers and gifts delivery around Kagarlyk.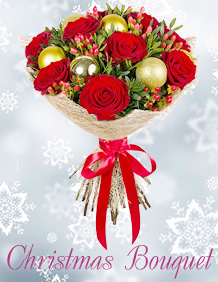 Steven

On both occasions I received excellent customer service and attention to detail.

Steph R, Belfast, United Kingdom

Thank you for the mail. My friend was very happy, and so am I Great service! Thank you Regards,

Christian, Belgium

Thank you very much for everything ! The bouquet is very beautiful. Yours faithfully.