Order fresh flowers and best lovely gift delivered in Sumy
How to order flowers in Sumy?
It is very easy to order a bouquet, flower composition, or an interesting gift and delivery directly to a door in our flower shop in Sumy. We have a huge choice of bouquets, flower baskets, compositions in boxes. Our flowers are always fresh, bouquets and arrangements are amazingly beautiful. It is very important to pick up flowers as to their tones, size and a look and our florists do it professionally. Compositions in hat boxes get extremely popular at a present time and they can be ordered in our flower shop in Sumy.
Couriers deliver your bouquet or arrangement directly to the receiver's door. If you order the arrangement at a Hat Box, be sure that flowers will be keeping fresh for a long time as they are set into a special oasis inside of the box. Arrangements in a hat boxes look elegant and luxury.
Our special pride is the most wide choice of gifts that we offer for our customers at our flower shop. They also can be easily ordered and paid online. We offer the most different gifts - from toys, to Certificates for visiting of SPA saloons. Live Tropical Butterflies also make a huge impression into the receivers...
Sumy florists combine a beautiful flowers with sweets or with strawberries arrangements at the boxes and girls and women love it very much. Look through our catalogs and choose the best flowers and gifts and order delivery in Sumy!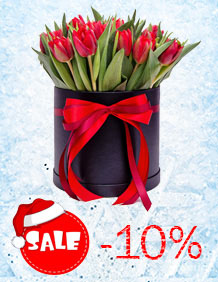 David Dollochin

Thank You ))) For the wonderful, kind and friendly service!!! The Orchid is very beautiful, and I appreciate all your help )) Kind regards, David...

Ercüment Demır, Turkey

Hi I am so happy for your work And of the gift we are together again Thank you and thank you for your labor Natalia ...

Suresh Mendiratta, India

Greetings, Thanks and I really appreciate the way you communicate about the delivery and report and helped me for everything . This was the best service i ever got for any onl...