Chernivtsi flower shop | Roses, bouquets & gifts delivery
Chernivtsi Region
Send a beautiful flower bouquet to friends from the local Chernivtsi flower salon
All human life is accompanied by flowers. New baby born and mother are meeting with flowers. Christening, birthdays, school final, wedding, the own babies birth... Holidays - New year, Christmas, St. Valentine's Day, on March 8, Easter.... People in Chernivtsi are absolutely same as they are at the other settlements of Ukraine. It's easy to send a beautiful, stylish bouquet to Chernivtsi through our flowers and gifts delivery service. Look through the selection of bouquets at our Catalogs. All of them are so good, It's even hard to make a choice!
Roses, luxury eustoma bouquets, elegant orchids arrangements, merry chrysanthemums compositions... The number of flowers and their colors that are available at our Chernivtsi flower shop through the year is impressive.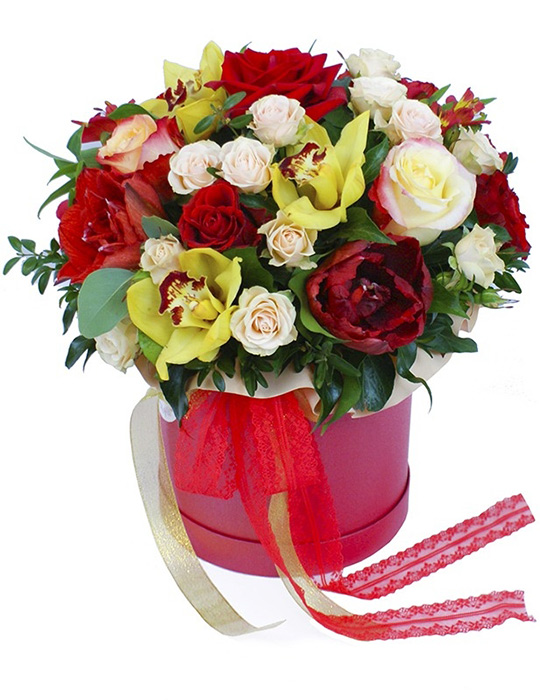 We would definitely suggest you to look through the boxes flower arrangements. They look amazing, elegant, solidly and dignifiedly. Such arrangements are extremely popular here in Chernivtsi at the present. They are good for a woman of any age.
Working at the flower and gift delivery service in Chernivtsi and around Ukraine since 1999, we could see, that women look happier if they get something unusual... something that is both lovely, beautiful and tasty or sweet. The 7Roses company prepared a selection of such a wonderful combinations flowers and sweets at a boxes. Take a look, choose and make someone happy with it!
Add a small gift to your fresh flowers bouquet for delivery to your family or friends
It would be a good idea to add a gift to a bouquet of flowers. If you send a birthday gift to Chernivtsi, then the bunch of multi-colored balloons would be just right thing to send! They are very inexpensive, but lightens the spirit perfectly. A good Ukraine or Italian Martini champagne, a basket of delicacies could be sent to Chernivtsi for a birthday party or for any holiday. Such baskets of delicacies and fruit baskets are most popular for sending as a gifts for Christmas, New Years and the Orthodox Easter. The choice of sweets sets is really the best at our store. Take a look!
Could you suggest an idea about a gift to be sent to Chernivtsi?
Incredible fresh flowers bouquets can be created by our florists in Chernivtsi. They make a beautiful bouquet of any kind of flowers that you choose. Remind what your Mother or your Beloved loves and order a bouquet of roses, liliums bouquet, or eustomas. We could deliver directly to the house or apartment flowers as well as some interesting gifts.
Actually we are a local Chernivtsi flower shop and sell flowers only. However we thought it would be a good idea to offer something else that our customers could send to their friends or families in Chernivtsi. So, we added a big bunch of various items. Our florists or couriers buy the ordered items as a regular buyers at the local supermarkets and shops.
So, don't be surprised if the soft toy or something else, that we deliver, looks differently than it is at the photos. Courier choose them from the available items at the shop.
It also can be so, that some items are absent at the Chernivtsi shops. At such case we mail them to our Chernivtsi flower shop at the case we have 1-2 working days before delivery date. In other words: the choice of the items available for delivery in Chernivtsi is much better if the order placed 2-3 working days prior the delivery date.
Look at our catalogs and you will find many ideas, including unusual ones! Take a look at arrangements in boxes , arrangements that combine flowers and berries, or flowers and macarons .... You could also send a basket of delicacies a lovely set of handmade cosmetics . There are really a lot more of various items for delivery to some one you love in Chernivtsi at our flower shop!
Are there in Ukraine any local traditions as to the number of flowers or their colors?
Yes! And it is extremely important to follow the local traditions in this regard. Receiver of your bouquet is going to be extremely sensitive about it.
The Number of Flowers
Odd number of flowers is sending for the holidays, birthdays, for expressing love or respect and so on. In other words, odd number of flowers is sending to a happy alive people. If you decide to send a bouquet of roses (by the way, it is the most popular flower for our customers), make sure to send the odd number of flowers!
Even number of flowers is sending as a mourning flowers, flowers to funerals, it is a number for memorial events only. Never ever send to someone the even number of flowers as greeting or a gift! It will be accepted like you wish a death to that person!!!
This tradition is extremely strong not just in Chernivtsi, but at all parts of Ukraine.
The Color of Flowers
Actually any color of flowers is ok for sending.
Red roses mean true love and passion
White roses symbolize purity and fidelity
It is customary to send bouquets of white flowers for a wedding. The only color that people in Chernivtsi might consider as a bad sign would be yellow roses! Traditionally yellow flowers are considering as a hint for parting or saying "Good bye!". However this tradition is slowly recedes in a big and modern cities. Girls and women there are mostly open to the yellow color flowers now. However people in a small towns and villages still follow this point of view. This fact makes yellow roses being not as popular as roses of other colors and that's why they might be absent at some periods at our flower shop. That's why yellow roses should be ordering a week prior the delivery date so, that we are able to order its supply and availability.
Funeral urgent flower delivery in Chernivtsi
It happens so, that some one loved and cherished leaves this World forever, but you are far away of Chernivtsi at the moment and can't be there for funeral. We are here for you at this hard moment and deliver traditional mourning bouquets of fresh flowers or a basket of fresh flowers for the funeral in Chernivtsi. Needless to say, that the black strip with your words of condolences will be added to the mourning arrangement. This type of flower delivery has first priority and is filling within 1-2 hours if necessary.
Do not forget to send the even number of flowers for a memorial reason. The color of flowers that normally are sending for funerals is dark red or white. Red carnation is a most usual flower for funeral, however for a close people dark red roses are sending as well.
The black strip should be added to the mourning bouquet or arrangement. The black strip for a large mourning basket of flowers is wide and a few words normally are written there (to whom and from whom). We can do it and place at an arrangement. Please, order a gift card and type in your words for the mourning black strip. Price is same for these both items.
How the order for flower delivery in Chernivtsi could be placed?
Actually it's very easy. Just search our Chernivtsi Catalog and make your choice. Send it into a cart. Then you could return back to Catalog and add something else. Go to the next stage after you finish shopping - click "Place order" button. Type in all the information that is necessary for us. Do not forget to provide us with the phone number of the receiver. It is the most important as we have to call the receiver before delivery to make sure we meet her/him in person.
Payment the order is the 3rd, last stage "Pay the order" button. As you could see at the opened payment page, we accept VISA or MASTER cards for on-line payments.
Sometimes our customer have some problems of paying the orders. Please, take into consideration, that all authorizations are providing by the banks-issuers, i.e. banks, that issued the Visa or Master cards. So, please, call your bank for assistance if you are intended to pursue the payment of the flower delivery order for your friends in Chernovtsi.
One more way to pay the international order would be through TransferWise most reliable company. It would take 15-20 minutes to clear things and to register there, but then you could easy pay any bill at any part of the World through this site. A few our customers use it and are happy with it. Except other benefits, we would mention a high security. Look, if you register at TransferWise and then use it for many (all?) payments, you are not going to spray out your card data at many sites, but use one reliable site for all payments.
Виктория из США

Еще раз вам огромная благодарность за вашу работу. Очень все красиво...

From Singapore

Thank you for your fantastic service. I didn't expect the photos, glad to see the smile on recipient.

Daniel from Stockholm, Sweden

Dear Natalia, Thank you very much for this, my girlfriend looks so happy! The flowers are very beautiful!