Choose flowers and gifts for delivery in Horostkiv
People like to receive gifts irrespective of where they live - in the capital, the big city, or in such a small town as Horostkiv. The real life goes on there, passions rage, the love comes and leaves and people come in it thia World and leave it forever. In all these occasions Horostkiv's inhabitants come to our flower shop for bouquets that are suitable for the actual case: for a wedding, birthday, anniversary, child's birth, christening, wedding, housewarming, and... for a sad situations like a funeral. If you are far from Horostkiv of Gusyatyn district of the Ternopil region, you can participate in city events anyway almost together with all the others locals. Order a bouquet of flowers, flower composition in a basket, choose a suitable gift and send it to your family, friends or darlings to Horostkiv. All you need to do is to place order only, and our Horostkiv flowers shop will do all the rest of things: deliver your flowers and gifts to the specified address and solemnly hands to your relatives. We provide not only festive bouquets, but also mourning arrangements. We deliver quickly, at the same day!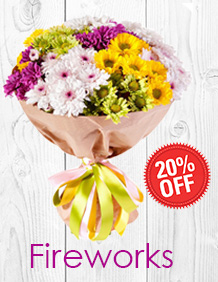 Billy, USA

Thank You Natalia!!! Everything was perfect and I'm glad the perfume is timely to get to her!! She was just commenting about how much she loves perfumes so it will be the pe...

Douglas, Palo Alto, USA

Dear Natalia: I just spoke with Yuliya (the lady to whom you delivered the flowers) She loved her gifts! And based on the pictures, it seems the flowers are very nice. Tha...

Victoria, USA

Спасибо вам огромное за вашу работу!!!! Все супер!!! ...