I great choice of flowers and gifts at our Kotovsk flower shop, fast delivery
Why do people like so much to receive flowers? Just because they are beautiful? It appears that not only because of it's beauty! The story had begun not in Kotovsk but many-many thousands years before, at a time when Kotovsk did not born yet and mammoths still were walking on the Earth. Then, long ago our ancestors got know that Then, long ago, our ancestors have learned that herbs and flowers have a curative properties. They have begun to bring them to their homes for treating, dried, prepared drugs for themselves and... have got used to their smell and a look! This way such tradition to llove flowers was strongly included, probably, into genes of the ancient human! Of course, at that times nobody created a beautiful bouquets and did not send them to friends across the ocean. However today it is a quite usual thing! Just imagine: you are walking around New York and have suddenly remembered that your aunt in Kotovsk has birthday tomorrow! Nightmare! What to do? Well, don't hurry to tear your hair. We, our flower shop in Kotovsk, is ready to execute your desire right at this moment! Just open our website, select the most beautiful bouquet or flower basket arrangement and place the order. And you're almost done. However... It will be necessary just to pay it online, since we don't process orders, do not start making arrangements unless your flower delivery order for delivery in Kotovsk is paid. Your Aunt would be much more happy if you send some gifts alone with flowers. What can you send? Oh, it's easy! You will find a million of the most various items! Try to choose... though it will be hard... We guess. Be persistent and you succeed. As soon as you finish, we will make delivery of your flowers and gifts in Kotovsk directly to the door of youre Aunt today! Surprise your family in Kotovsk. They will love you even more strong after that ))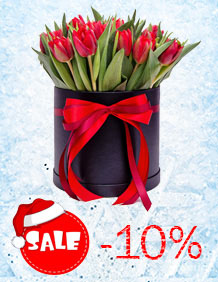 David Dollochin

Thank You ))) For the wonderful, kind and friendly service!!! The Orchid is very beautiful, and I appreciate all your help )) Kind regards, David...

Ercüment Demır, Turkey

Hi I am so happy for your work And of the gift we are together again Thank you and thank you for your labor Natalia ...

Suresh Mendiratta, India

Greetings, Thanks and I really appreciate the way you communicate about the delivery and report and helped me for everything . This was the best service i ever got for any onl...