Order Fabulous bouquets and unusual gifts in our Kramatorsk salon
Many families have been divided by hundreds and even thousands of kilometers. Young people move to other countries in a search of new opportunities. Their mothers, fathers, aunts, uncles, grandfathers and grandmothers still stay in Ukraine. Despite a huge distances between you, you still remain the most loved for them. These words can be toild about people in Kramatorsk, Donetsk region. Your family waits for you there, but so far yoiu can't visit your family, say, your mother's birthday, it is possible to send her a bouquet of magnificent flowers, or flower composition in a basket. We assure you that she will be happy to receive such gifts from you! It can be done by our florists in Kramatorsk! They will create a beautiful bouquet of any kind of flowers that you like. Remind what your mother loves and order a bouquet of roses, either lilies, or eustomas... We could deliver directly to the house in Kramatorsk not only flowers, but also some interesting gifts. Look at our catalogs and you will find many ideas, including unusual ones! Our florists in Kramatorsk create the most beautiful arrangements in boxes that combine flowers and berries, or flowers and macarons.... You could also send a basket of delicacies, a set of handmade cosmetics... and still there are many different items for delivery in Kramatorsk at our flower shop! It is very easy to place order for flowers delivery or gifts around Kramatorsk at our website 7roses. Choose what you like, put in a basket and get the payment instructions at the end on shopping. We accept the Visa and Master of Cards cards.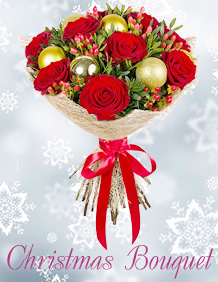 Steven

On both occasions I received excellent customer service and attention to detail.

Steph R, Belfast, United Kingdom

Thank you for the mail. My friend was very happy, and so am I Great service! Thank you Regards,

Christian, Belgium

Thank you very much for everything ! The bouquet is very beautiful. Yours faithfully.