Elegant bouquets and creative gifts in Chernigov. Delivery service.
Chernihiv Region
Lokal florist in Chernihiv
Our local flower shop provides bouquets of flowers, plants, the most various gifts delivery in Chernihiv. You can send greetings to your dear ones and a family, order delivery of flower arrangements, bouquets, flower baskets. Professional florists arrange beautiful bouquets in modern style. It's possible to order delivery of any kind of gifts, sweets, coffee or tea sets, cake, chocolates, baskets of fruits and delicacies. Such a bright addition as a bunch of gel balloons will add festive spirit to flower delivery. It is easy to buy, order flower delivery in Chernigov at our website. We accept payment for flowers orders with Visa and MasterCard online.
Red roses as a Queen Flowers
There are flowers that are popular and are available at our local Chernihiv flowers shop all around the year. The flower #1 for 99% of people in the World is a Rose. Red roses bouquets are the most popular for our customers. Red roses bouquets can be sent at any season by our local florist. There are both roses that are grown in Ukraine and roses, that are imported from Holland, Ecuador, Kenya. Long stem imported roses are Elite luxury quality roses. Their buds are large, stems are thick that gives them more strength to stay alive for a much longer period then a a local Classic roses bouquets or short stem local roses of all colors. However roses are a very tender flowers and need to be taken a good care of for staying alive for a long time.
Seasonal flowers delivery from our local flower shop in Chernihiv
Each season gives us a special chance to make a various beautiful combined bouquets and flower arrangements of a seasonal flowers. In spring our local florists deliver a wonderful fresh and stylish bouquets of tulips, narcissuses, peonies, lilac and others. The bouquets and flower arrangements of a summer seasonal flowers are also very popular at that season, they are making with sunflowers, dahlia, camomiles, gladiolus. In the fall first place on polarity is won by autumn seasonal compositions of asters, hydrangeas, and other flowers.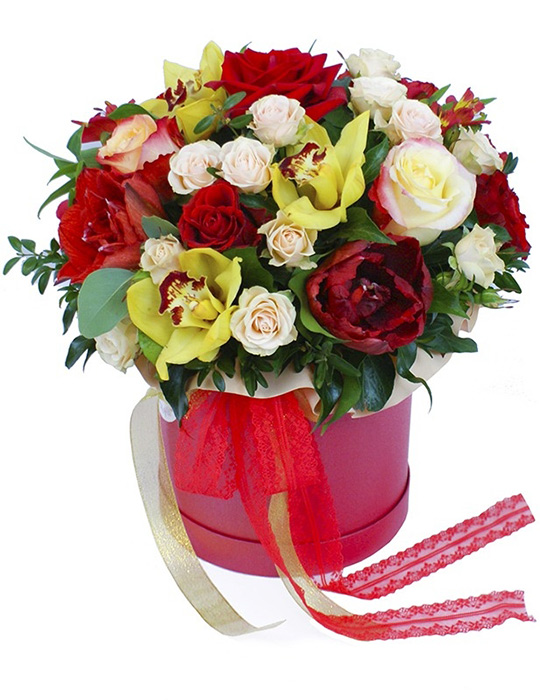 Don't forget to present flowers to your darlings even if they are far now. Distances are not a problem at the present World. We are here for you and are ready to help you to organize a nice celebration for your friends or a family. Professional florists of our flower salon will create an unique bouquet, or flower arrangement. By the way, we recommend you to look through at Hat boxes arrangements in our catalog. Such design is extremely popular in Chernihiv, as well as all around Ukraine.
Could you suggest an idea about a gift to be sent to Chernihiv?
Incredible fresh flowers bouquets can be created by our florists. They make a beautiful bouquet of any kind of flowers that you choose. Remind what your Mother or your Beloved loves and order a bouquet of roses , liliums bouquet, or eustomas. We could deliver directly to the house or apartment in Chernihiv flowers as well as some interesting gifts.
Actually we are a local flower shop and sell flowers only. However we thought it would be a good idea to offer something else that our customers could send to their friends or families. So, we added a big bunch of various items. Our florists or couriers buy the ordered items as a regular buyers at the local supermarkets and shops.
So, don't be surprised if the soft toy or something else, that we deliver, looks differently than it is at the photos. Courier choose them from the available items at the shop.
It also can be so, that some items are absent at the shops. At such case we mail them to our Chernihiv flower shop at the case we have 1-2 working days before delivery date. In other words: the choice of the items available for delivery is much better if the order placed 2-3 working days prior the delivery date.
Look at our catalogs and you will find many ideas, including unusual ones! Take a look at arrangements in boxes, arrangements that combine flowers and berries, or flowers and macarons .... You could also send a basket of delicacies a lovely set of handmade cosmetics. There are really a lot more of various items for delivery to some one you love in Chernihiv at our flower shop!
Funeral urgent flower delivery in Chernihiv
It happens so, that some one loved and cherished leaves this World forever, but you are far away of Chernihiv at the moment and can't be there for funeral. We are here for you at this hard moment and deliver traditional mourning bouquets of fresh flowers or a basket of fresh flowers for the funeral. Needless to say, that the black strip with your words of condolences will be added to the mourning arrangement. This type of flower delivery has first priority and is filling within 1-2 hours if necessary.
Do not forget to send the even number of flowers for a memorial reason. The color of flowers that normally are sending for funerals is dark red or white. Red carnation is a most usual flower for funeral, however for a close people dark red roses are sending as well.
The black strip should be added to the mourning bouquet or arrangement. The black strip for a large mourning basket of flowers is wide and a few words normally are written there (to whom and from whom). We can do it and place at an arrangement. Please, order a gift card and type in your words for the mourning black strip. Price is same for these both items.
How the order for flower delivery could be placed?
Actually it's very easy. Just search our Chernihiv Catalog and make your choice. Send it into a cart. Then you could return back to Catalog and add something else. Go to the next stage after you finish shopping - click "Place order" button. Type in all the information that is necessary for us. Do not forget to provide us with the phone number of the receiver. It is the most important as we have to call the receiver before delivery to make sure we meet her/him in person
Payment the order is the 3rd, last stage "Pay the order" button. As you could see at the opened payment page, we accept VISA or MASTER cards for on-line payments.
Sometimes our customer have some problems of paying the Chernihiv orders. Please, take into consideration, that all authorizations are providing by the banks-issuers, i.e. banks, that issued the Visa or Master cards. So, please, call your bank for assistance if you are intended to pursue the payment of the flower delivery order for your friends.
One more way to pay the international order would be through TransferWise most reliable company. It would take 15-20 minutes to clear things and to register there, but then you could easy pay any bill at any part of the World through this site. A few our customers use it and are happy with it. Except other benefits, we would mention a high security. Look, if you register at TransferWise and then use it for many (all?) payments, you are not going to spray out your card data at many sites, but use one reliable site for all payments.
Marin, Croatia

Thank you very much for great and professional service,for sure i will use your services again.

alain

service magnifique jusqu au choix de la carte. attentif tant a l acheteur qu au destinataire. Je n ai jamais rencontré un...

Ольга

Чудова робота! Дуже задоволена. Щиро дякую!