Flowers, gifts delivery for the important dates in Vinogradiv
The bouquet of flowers is a universal gift almost for any reason and in any point of Ukraine. Some one in a far away Vinogradov waits for birthday greetings, Easter, New year, Christmas... wedding.... flowers. It's actually verey easy to plaace order for flowers delivery, flower compositions, bouquets in our Vinogradov flower shop. Our florists and couriers will do everything for you and according to your instructions! Flowers for delivery in Vinogradov can be chosen in our catalog. Pay attention to beautiful bouquets and compositions. The flowers can be ordered at our flower store for a sad occasions as well, for example, for a funeral in Vinogradov. Such order can't be placed in advance therefore we do everything to manage mourning flower delivery prior to the funeral ceremony. However let's enjoy life and make your family and friends in Vinogradov happy by sending flowers and gifts there!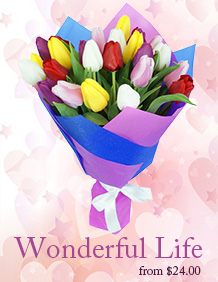 7roses

Thank you for your outstanding service!)) I will place order with you for International Women's Day soon (which is not tradition...

7roses

Thank you very much Yulia!!! Very greatly appreciated!!! Have a terrific week!! Very best regards, Ben

7roses

To Yulia....many thanks, delivery and photos, exceeded all expectations...Larisa very pleased. Thank all responsible for...